Our delicious award-winning 100% pure English Honey is produced on the family farm where our lovely bees can forage naturally for pollen and nectar, creating an outstanding raw honey with a clear provenance.
We are Richard and Sarah Hoyle. We live on a wonderful farm in Navestock Side, Essex and our mission is to have happy, healthy bees, who are free to make the most gorgeous honey. Our bees live in hives carefully positioned on the best sites, allowing them to feast on the nectar and pollen available from the abundance of bee-friendly flowers, trees and crops.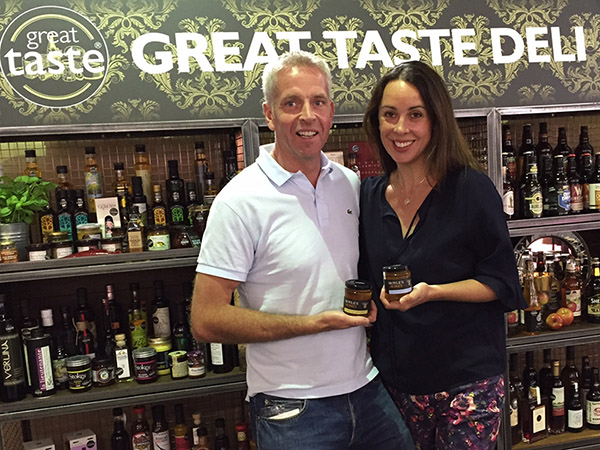 We specialise in raw honey which means that unlike many imported products, we don't destroy the natural vitamins, enzymes and antioxidants by overheating and pasteurisation processes. Our range of different award winning honey is just as nature intended, packed with nutritional goodness and exceptional taste.
Our fabulous bees work very hard to create a heavenly honey treat for your taste buds – and like any farmed crop – you can't just 'make more'. So, every year represents a unique 'vintage' influenced by the varied nectar types that combine to create different shades and flavours, something that simply cannot be replicated by any mass market processed honey.
We are proud to announce that Hoyle's Honey is now so well established we are able to offer a year-round supply.
Hoyle's Honey is also available for hampers and corporate gifting.
Join our mailing list to keep up to date with all the bee-based activity on the farm, including details of any new variants.
IMPORTANT NOTICE
If you are local to the Brentwood area, please POP IN to our honesty shop off the farm gate (Princes Road, Navestockside, CM14 5SN) where you can shop the whole range of honeys, including the very popular 1KG jar and 1.5KG bucket. Don't forget to ensure you have the correct money, as we rely on your honesty and there's no-one there to provide change!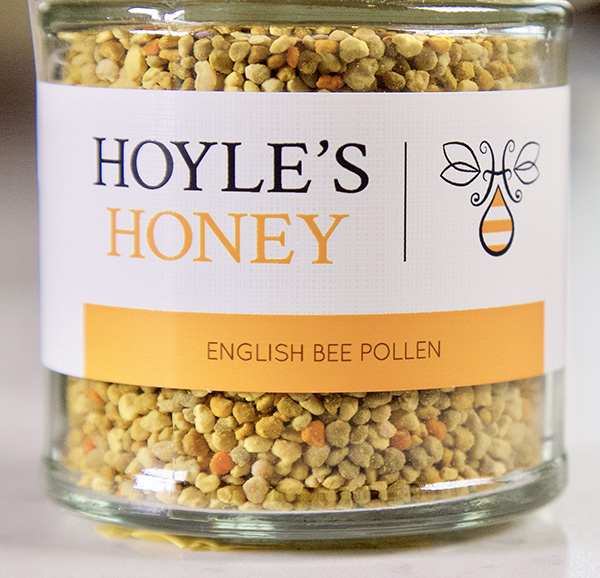 Hoyle's Honey specialises in 100% Pure English Honey, straight from the hive to the jar. Produced only by our own bees, every jar of Hoyle's can be traced directly back to a specific area where the bees foraged for nectar. Unlike many imported honeys, you can be assured of its unadulterated purity and a mouth-wateringly moreish taste that will definitely leave you craving for more!
The Hoyle family has been farming since the 1950s, so we've had plenty of time to hone our skills and we appreciate the importance of operating as responsible custodians of the rural landscape. We understand the growing need to protect the natural habitat to provide a happy home for our bees, so we always ensure they have access to the best foraging environment both on our own and on neighbouring farms.
We started off managing just a couple of hives under the watchful expert eye and helping hand of a dear bee-keeping friend who steered us in the right direction. What was once a rewarding hobby has now grown into a fully-fledged business, selling award-winning honey locally from our farm shop while also making it available nationwide thanks to the miracle of the internet.
Our aim is simple: to keep contented, healthy bees and as a result, produce market-leading Pure English honey with an unrivalled incredible taste.
Benefits of raw honey 
We specialise in collecting raw honey that retains all the natural vitamins, enzymes, and antioxidants that would otherwise be destroyed by over- heating and pasteurization processes.
Our honey is the real thing, produced just as nature intended with all of the taste and nutritional goodness staying put in the jar.
Benefits of pollen
Known as a superfood, bee pollen has incredible benefits of vitamins, amino acids, omega 3 and antioxidants. Some studies claim it relieves inflammation, eases symptoms of menopause, boosts liver health and strengthens the immune system to name a few.
Sign up to our Newsletter